Local aerospace technology company HeliMods has been named Large Manufacturing Business of the Year in the 2018 Sunshine Coast Business Awards.
The award recognises HeliMods for its outstanding leadership of the local industry and its contribution to the talent and high calibre of businesses throughout the region. It also represents yet another achievement after being catapulted into the national spotlight earlier this year as Telstra's 2018 Queensland Business of the Year.
"It's definitely been a big year of achievements for us," says Will Shrapnel, Founder and Managing Director of HeliMods. "It's fantastic to receive this award in particular, as it not only recognises our contribution to the Sunshine Coast as a leading, high-growth business, but also our leadership in advanced manufacturing."
"Through our business, we see the opportunities that high-tech manufacturing can create every day – through the innovations we produce, the incredible talent we attract, and the high value work we continue to win nationally and globally. We hope to see more businesses on the Coast championing this space alongside us and creating even more capability and opportunity for the region."
"Thanks go out to our team and partners for continuing to help us grow and go from strength to strength."
HeliMods is recognised as a world-leader in the provision of aerospace products and services. They specialise in transforming helicopters to take on critical missions like firefighting, law enforcement, and medical rescue. Their progressive approach to attracting young, vibrant and highly talented teams, combined with investing in the best technologies and state-of-the-art infrastructure, continues to pave their road to success and set them apart globally.
Awards Chair Jennifer Swaine said this year's award winners were an impressive group of business leaders representing industries from throughout the Sunshine Coast, Noosa and the Hnterland. "It's never easy for the judging panels and this year has again proven how strongly our region performs across a wide range of award categories," she said. "The quality and diversity of all of the entries across each of the awards was exceptional and truly eye opening; proof that our region is progressive and thriving."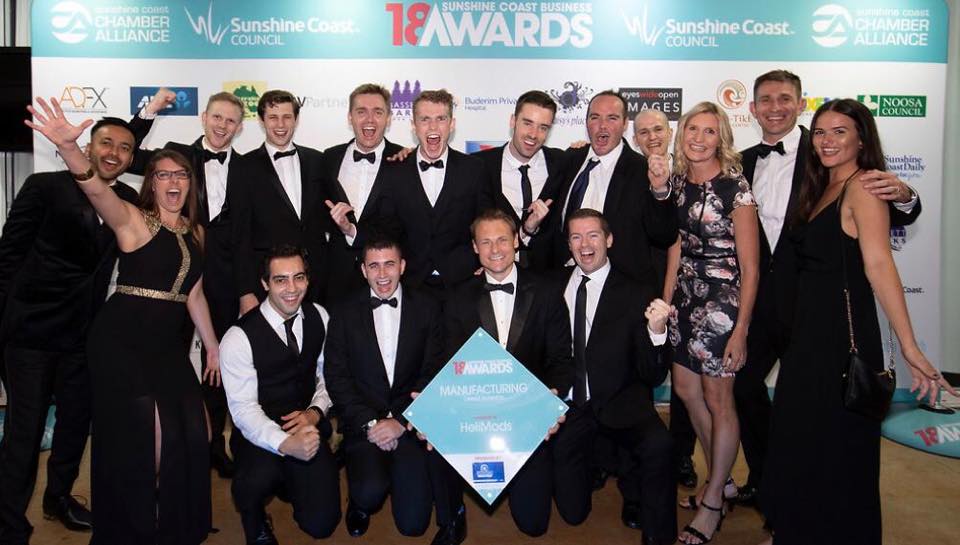 Share