HeliMods' approach combines technology and collaboration to solve industry problems.
Sunshine coast based company HeliMods, an Australian aerospace technology company, has successfully been awarded a $1 million grant to accelerate the commercialisation of a new product, the Powered Aero Loader (PAL), which solves one of the biggest challenges faced by the emergency medical services (EMS) industry. The innovative new product allows paramedics to load critically ill and injured patients into aircraft faster than ever before and without risking injury due to manual lifting.
HeliMods is one of 11 businesses to be offered $5 million in commercialisation grants under the Accelerating Commercialisation element of the Australian Government's Entrepreneurs' Programme. Helimods director Will Shrapnel said there had been a surge in stretcher technology in recent years which paved the way for greater innovation.
"In the last five years, significant advances have been made in the application of high-powered portable batteries and hydraulic lifting systems which has led to the development of advanced power-lifting stretchers," said Will.
"These new hi-tech stretchers allow paramedics to load and unload patients at the push of a button, without any lifting and has prompted many Australian states and overseas countries to make the switch over to this new technology. However part of the problem for many adopters has been that until now, this stretcher technology has only been available to road based emergency vehicles, and not to the critical airborne emergency retrieval vehicles including helicopters and fixed-wing aircraft."
Due to the technical complexity of the new stretchers, most of the industry had ruled out integration into aircraft. "To realise the benefits that this stretcher technology can provide to communities globally, HeliMods aimed to overcome these challenges and set the sights of our talented engineering team to tackle the problem," said Will.
"As a specialist provider of innovative mission solutions for public safety and emergency response in support of aeromedical services, Police, Fire, Ambulance and Defence assets, it was a problem we needed to solve."
To ensure that the PAL system would meet the needs of end-users, HeliMods adopted a highly collaborative approach to solving the problem. "Several operators around Australia were involved in the initial development process," said Will. "Ambulance Victoria were early adopters of the new stretcher technology throughout their road ambulance fleet, and with the support of Babcock Mission Critical Services Australasia (BMCSA), they played a key role in giving input to the initial requirements, ground tests and flight trials of the PAL system."
Community rescue helicopter services also assisted in the development, providing access to aircraft which had previously been in service for the NSW ambulance service.
Locally, Queensland-based provider LifeFlight, a world leader in aeromedical services, also provided invaluable support and advice in testing and trialing the HeliMods solution. LifeFlight Chief Operating Officer Brian Guthrie said there was currently no solution which allowed patients to be transferred between road ambulance and helicopter or fixed wing aircraft without lifting or transferring the patient between different stretchers. "LifeFlight was very happy to work with HeliMods to help accelerate the development of this system and we have seen from ground demonstrations and trials that the implementation of PAL has the potential to greatly improve patient outcomes and reduce the exposure of paramedics and aircrew to lifting injuries," said Mr Guthrie. Mr Guthrie said the PAL would also be beneficial with LifeFlight being called upon to airlift an increasing number of obese patients with a limit of patients who weigh more than 160kg.
"We find that we get an increasing number of missions involving obese patients and the PAL will assist in our aircrews being able to more safely transport those patients and reduce the risk of injury to our people," Mr Guthrie said.
"We think this is an exciting innovation and we believe that it will add to LifeFlight's capability in the future."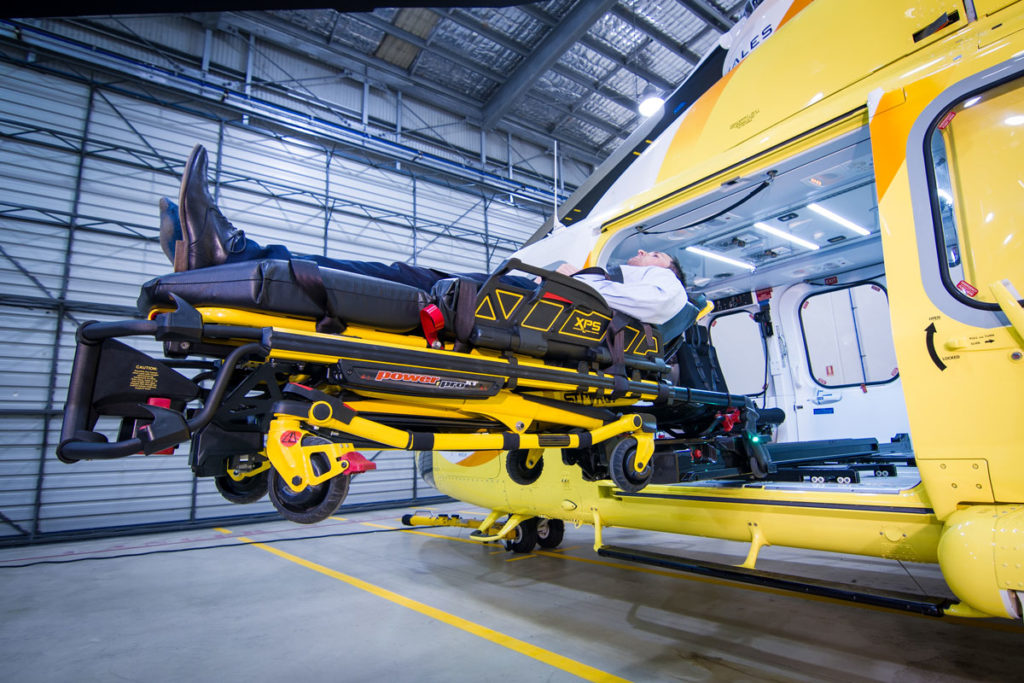 Share